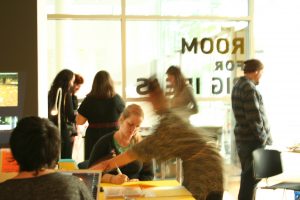 Over a three-month period this summer in San Francisco, SPARKmakers and its founder Studio CNS have been invited to design and transform the Room for Big Ideas: Conceiving Place into an urban research lab and so we are creating the space as the SPARKmakers Thinkering School – a self organized group of artists, creators, and activists who will be leading thinkering-shops, presentations, and activities.
The school's vision is to conceive a multipurpose space, create a peer-to-peer network and actively engage the public through hands-on and minds-on interdisciplinary curriculums.
In this line of thinking and in making use of this experience, our goal for the future will be to launch a similar kind of space in North Philadelphia. Though until then, check out our website and if you are in San Francisco come see the installation and/or join us in this evolving space.